With Smoke in the Air and a Song in your Heart
In our fast paced work-a-day world, it can be hard to get a moment to sit down and listen to the latest single from your favorite artist, let alone listen to a full album of their latest works.
This is one of the biggest reasons that many musicians have moved away from the album format. However, as any stoner worth their weight in ounces knows, there's no transcendent experience like sitting down with a blunt, a joint, or your favorite smoking apparatus and taking in a truly great album from an artist that knows how to amplify your high.
Below we'll take a look at ten of the best all time albums to sit down and smoke a few to.
10. Wu Tang Clan- Enter the Wu Tang Clan (36 Chambers)'
The debut album from Staten Island's native sons, Enter the Wu Tang (36 Chambers) emerged from the slums of Shaolin to change the very face of rap itself. Taking inspiration from comic books, martial arts flicks, chess games, and, of course, Cannabis Sativa, Wu Tang defined what 90's hardcore rap was to sound like with 36 Chambers.
Crafting personalities and superhero like origin stories, Enter the Wu Tang was the first showcase of the nine man group. Enter the Wu Tang provides a lofi look at New York's grimiest through the lens of comic books and Kung-Fu and a haze of weed smoke.
9. DJ Shadow- Endtroducing…
The seminal go to album for rapless hip hop, DJ Shadow's freshman effort blew the minds of the old heads and changed what urban production could be when it debuted in 1996. Featuring a slew of obscure and popular samples alike, Endtroducing… sounds like nothing before or since.
Ranging from 'Changeling's new agey sound to 'Best Foot Forward's lofi hip hop Endtroducing… presents varying and unique tracks while holding onto a cohesive and interconnected sound. DJ Shadow provides the listener with an excellent banger and blunt burner.
8. Smoke DZA- Rolling Stoned
Taking his name from the movie Friday's famous Smokey, Smoke DZA released his debut album Rolling Stoned in 2011 featuring a plethora of notable names including Schoolboy Q, Kendrick Lamar, and ASAP Rocky.
Taking inspiration from greats in the game like Jay Z and Biggie, Smoke DZA manages to lay out supremely crafted lyrics while keeping it as light and fun as the joint smoke.
Rolling Stoned is a twelve track album of weed burning anthems that will make you want to keep lighting up long after your bag is only seeds and stems.
7. Led Zeppelin- Led Zeppelin IV
The official name of this album by the seminal classic/folk/psychedelic rock group, Led Zeppelin, is actually four symbols chosen by each member of the quartet though is commonly referred to as Zeppelin Four or ZOSO due to the appearance of the aforementioned occultish appearing icons.
In that same spirit of the ethereal and realm of the spirit, Zeppelin manage to indulge the listener in a magnum opus of classic rock that manages to sound just as magical in the modern era as it did upon its release in 1971.
There's nothing quite like toking a fat joint as the opening chords of 'Stairway to Heaven' flourish in and Robert Plant begins his tale of 'A lady who's sure all that glitters is gold'. One of rock n' roll's most influential bands without Zeppelin, and specifically the Zeppelin Four album, bands like Greta Van Fleet, Band of Horses, and My Morning Jacket may never have existed.
6. Bonobo- Animal Magic
Bonobo is a multi-instrumentalist, producer, and DJ from Brighton, England, who specializes in trip hop inspired serene instrumentals. In his expansive career Bonobo has shown jazz and world music influences as well and is one of the pioneers of the lofi hip hop trend popularized in recent years. Bonobo's first album, Animal Music is an excellent sit down and get stoned record.
The music presents a soft and tranquil pallet for your high mind to relax and groove to while presenting your ears with enough sonic uniqueness to keep you engaged and nodding along while you puff your blunt.
Speaking of puffing. Need to clear the air fast? Don't miss your chance to try 2 bottles of BluntPower Air Freshener FREE.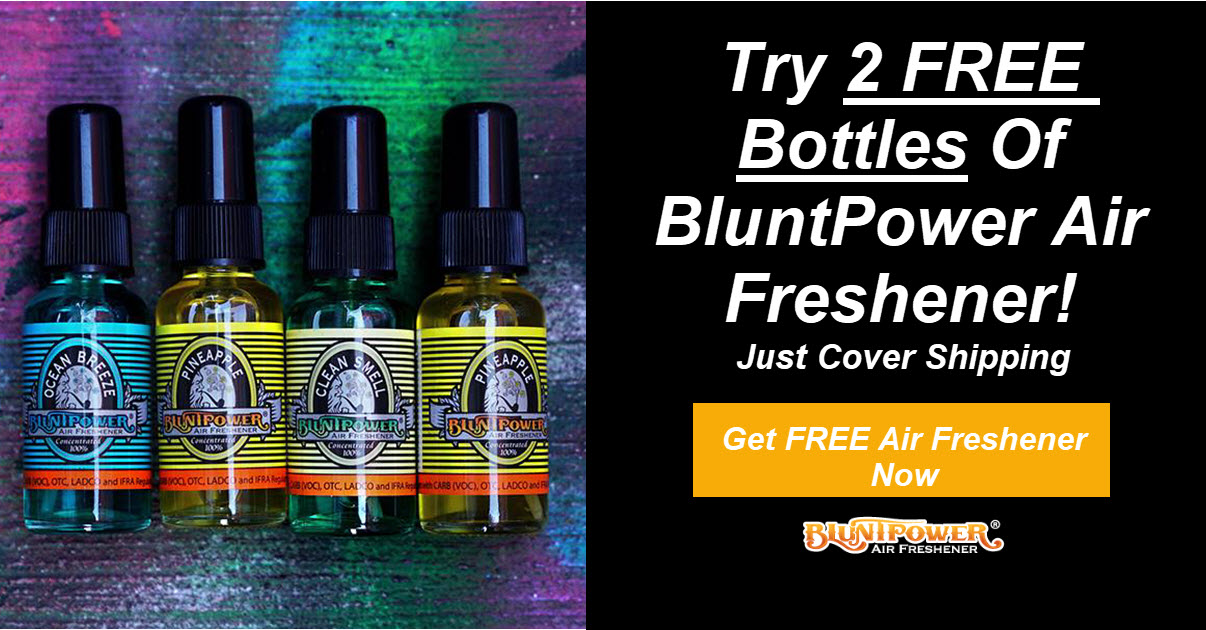 5. Wiz Khalifa & Snoop Dogg- Mac & Devin Go to High School Soundtrack
From two of the hip hop world's most noted cannabis connoisseurs, Snoop Dogg and Wiz Khalifa, comes the soundtrack to their 2012 joint movie venture, Mac & Devin Go to High School. An oft forgotten but essential party stoner album, on Mac & Devin, Wiz and Snoop showcase their own signature raps through a haze of weed smoke, along with the help of some notable features such as Bruno Mars, Juicy J, and Mike Posner.
With songs like the hit single 'Wild and Free' as well as 'French Inhale' and 'You Can Put it in a Zag, I'mma Put it in a Blunt' it's easy to see how this one can perfectly accompany an evening of professional smoke sessions.
4. ODESZA- In Return
With radiant electronic beats that put one in the head space of summer adventures over rolling hills under blue skies, ODESZA, a Washington based DJ duo, have carved out a significant place in the EDM world in their short time since emerging on the scene.
The band's major label debut from Ninja Tune, In Return, features a variety of indie world elite features such as the likes of Zyra and Briana Marela and highlights the intertwining of soaring beats and moving scene poetry. The bright, bouncy sound makes for the perfect smoking atmosphere and lends itself to a care free party vibe while still providing though provoking ponderances within the lyrics of guest vocalists.
3. Pink Floyd- The Dark Side of the Moon
The album that would define psychedelic stoner rock for years to come and who's pyramid/prism album art would go on to be emblazoned on every piece of merchandise imaginable, Dark Side of the Moon was rock legend Pink Floyd's eighth studio album.
Despite this being the mainstream idea of the ultimate stoner album, Dark Side of the Moon is in fact a trippy ride if ever there was one and pairs perfectly with some heady Sativa. The concept album produced hit Floyd singles 'Time', 'The Great Gig in the Sky', 'Us and Them', and was ranked number three on Rolling Stone Magazine's Forty Greatest Stoner Albums.
2. Band of Horses- Everything All the Time
This indie quartet features a quiet subtle sound that gives way to soaring sonic choruses and deep meaningful lyrical subject matter. Band of Horses' first album Everything All the Time was released from noted alternative label Sub Pop, known for working with Nirvana, and other grunge hit makers.
Everything All the Time makes for gentle, subtle listening that pairs well with a lazy, rainy evening in and an intense Indica.
1. Kid Cudi- Man on the Moon: The End of the Day
The first full length album from the one and only Kid Cudi, Man on the Moon: The End of the Day is the ongoing sage of Cudi's Lonely Stoner character.
Innercut with narration by conscious hip hop legend Common, Man on the Moon: The End of the Day is an album of the highest highs and lowest lows, fully showcasing the struggle of being a twenty something stoner pondering the universe, death, and what to do with your life. Featuring Cudi's breakout hit 'Day n' Night', the first installment of the Man on the Moon series would go on to inspire such notable hip hop artists as Travis Scott and Lil Peep.
When the Music's Over...
Whether you're bumpin' these albums on your car's stereo or going old school with vinyl at the pad, undoubtedly your listening session has provided some deep aromatics to wherever you decide to chill.
Bluntpower has your back with over two hundred unforgettable scent options to give you some much needed smell coverage.
Whether you prefer incense or sprays, Bluntpower ensures you can come out in high spirits, smelling and feeling fresh, with a good song in your head.
Need to clear the air fast?