Hip-hop has had a significant role in shaping the cannabis culture we know and love today. Over the decades, it has been an influence in instigating opinion and advocating for a change in regulations and discrimination. Hip-hop artists have aimed to do all that while coming up with some classic gems in the process.
In no particular order, this article looks at some of the best hip-hop songs written about weed over the years;
Off their 1992 debut album, Bizarre Ride II, the song stands out for addressing issues surrounding weed and the stigma around it. The track addresses people's choice of using harsh drugs instead of weed and also why it's a taboo teaching the youth about weed.
'KK' references Wiz Khalifa's brand of weed; Khalifa Kush, and is an excellent example of the newly emerging landscape of the cannabis culture.
If you are gonna be doing any chiefing indoors. Keep some long incense sticks on deck. Each one burns for hours and replaces smokey smells with long lasting awesomeness...No matter if you are smoking regs or that Khalifa Kush.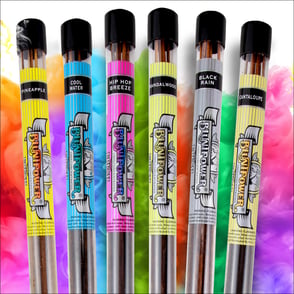 A rap song touching on the experiences shared while blazing one up will always resonate among cannabis users. It's one of the reasons the track is a massive hit with cannabis enthusiasts and the new, young generation of hip-hop heads.
It rarely gets better than this. From the intoxicating beat to the lyrics, there is nothing about this track that isn't classic. The Next Episode is a banger; then again, Dr. Dre rarely does anything wrong. At the same time, the track accurately captures the attitude towards weed during this era.
Tuning in for the next episode? These air fresheners are guaranteed to have your home or car smelling amazing. Even if you smoke like like an OG:
Hey, no one was born a pro at rolling and lighting one up; though it might seem that way for some. On top of that, who said hip-hop isn't educational? Off of his full-length album, How to Roll a Blunt doesn't only give you a step-by-step guide; it also contains the trademarks that went on to garner Redman respect and admiration within the hip-hop community.
Weed has always had a sense of camaraderie, very few songs sums this up better than I Got Five On It. The song's main hook talks about sharing half the dime, pointing out the possibility of sharing weed with a friend on a similar level as you.
We all know it's not always about having a good time; sometimes life sucks. Crumblin' Erb highlights the remedy weed is for a troubled soul. The whole track entails the duo rapping about the world's trouble surrounding them and how all that chaos can be eradicated with one magical remedy—good Kush!
If you are a smoking and vibing, you are guaranteed to leave the place smelling funky. These crazy strong Odor Eliminators will wipe out stank odors at light speed. Try them for yourself and see what the hype is about:
First of all, when it comes to the greatest underground hip-hop albums of all time, Madvillain is almost always within the conversation; sometimes dominating it. One of the gems from the album, America's Most Blunted is loaded with praise and references for blunts including a mention on the research done on cannabis.
With its hypnotizing beat, lyrics and music video, Purple Swag was a hit among listeners as an ode to purple kush
Can you have a list of hip-hop tracks about weed without including Cypress Hill? I don't think so. When it comes to hip-hop songs about weed, Hits from the Bong is how a weed anthem should sound. The track is an excellent balance between trippy and upbeat, with the lyrics highlighting the effectiveness and greatness of taking hits from a bong.
The list goes on and on and on; these are just a few classic and recent gems that have been written about weed; some educational, some enlightening, and all of them great hip-hop tracks.
Before lighting up, make sure you got yourself a Blunt Power Air Freshener to handle the weed smell after. You need the high, not the bad stank!
Find Your Next Favorite Fragrance. Get Free Shipping On Orders Over $25