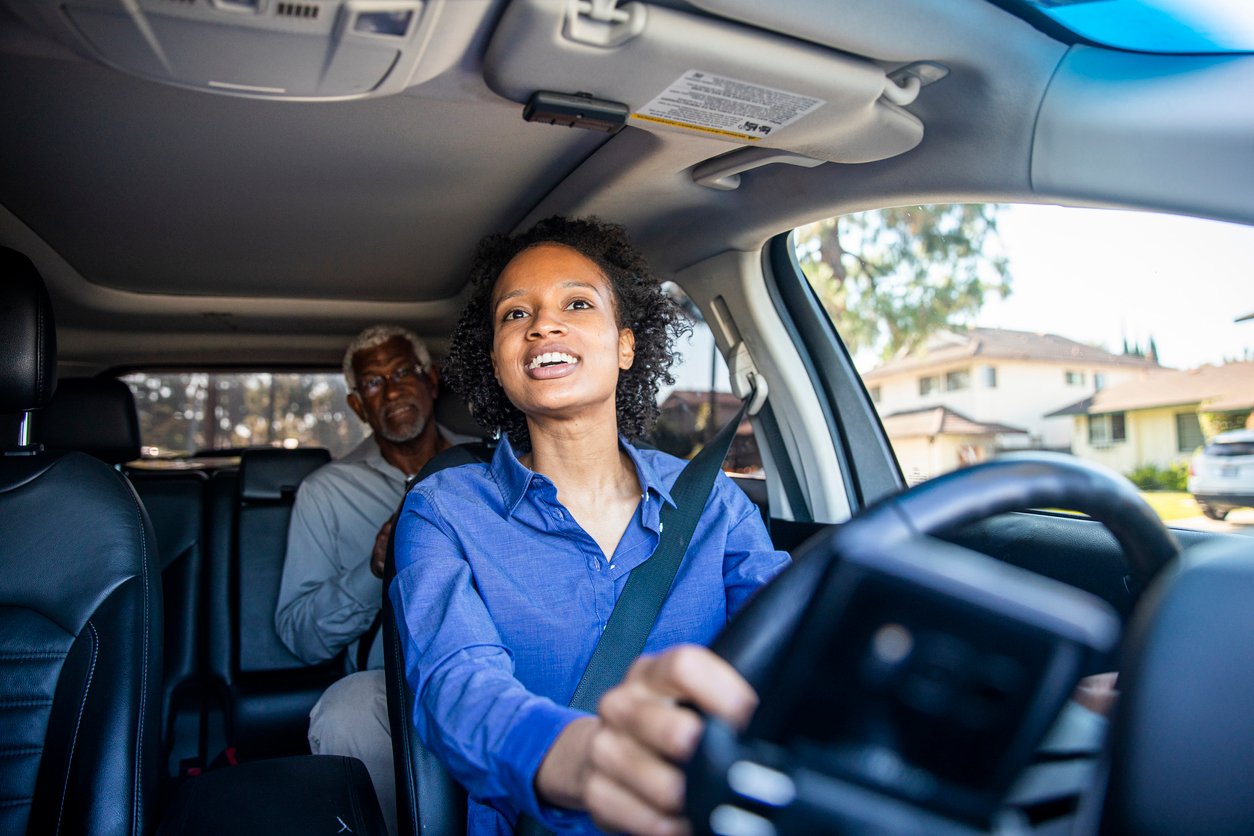 In today's landscape, ridesharing platforms such as Lyft, Uber, and even Turo are becoming immensely popular. These services allow for passengers to get from point A to point B conveniently with a respectable price tag. Additionally, these ridesharing platforms are often side hustles for many of individuals looking to make some extra bucks outside of their full-time occupations.
Also, during these downtimes, rideshare operators like to indulge in a bit of ganja. For safety reasons, these actions are often prohibited by many ridesharing platforms. However, it is not unlike a rideshare operator to pull over, exit their vehicle, and indulge in a smoke of the reefer variety. Moreover, the scents of those sticky buds can stick to rideshare operators and leave their vehicles reeking of dank.
Although (most) passengers are pro-cannabis, it is still a potential way to lose your side hustle. But fret not, dear reader for BluntPower is here to save the day! Here are 10 BluntPower air fresheners that will keep your passengers happy and oblivious to your smoke breaks.
See What All The Hype Is About! Get Free Shipping On Your Favorite Fragrances Today.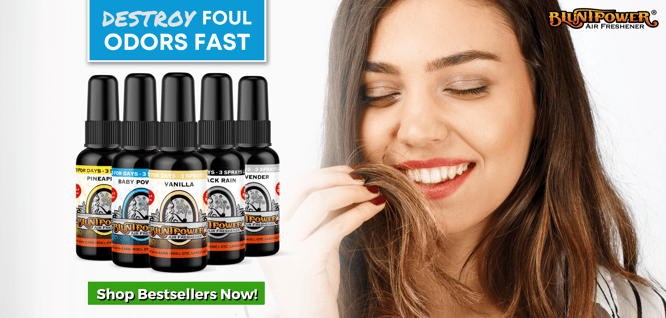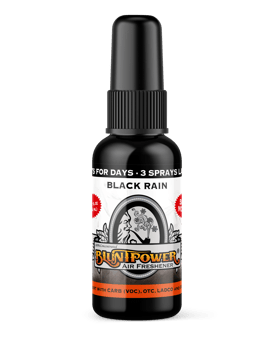 1.) Black Rain
The first entry on our list of BluntPower air fresheners that will keep your off-the-clock toking secret from your ride sharing passengers is the legendary Black Rain. This formula of BluntPower features a unique combination of notes of bergamot, lavender and a mild amount of citrus.
One spray after a hotbox session is sure to cut right through those previously burned nugs.
>>>Click Here To Try Black Rain Air Freshener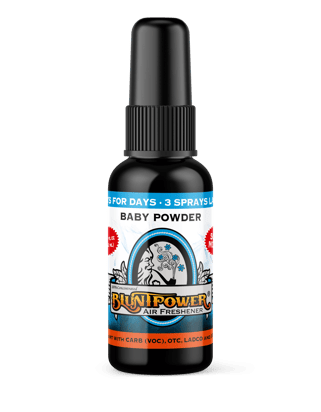 2.) Baby Powder
Next on our list of BluntPower air fresheners recommended by rideshare operators is Baby Powder. This version of BluntPower provides your vehicle with scents reminiscent of baby powder and a fresh breeze.
Despite its breezy appeal, BluntPower's Baby Powder is strong enough to eliminate those dank smells.
In fact, your passengers may wonder if your kid's fresh diaper bag in somewhere in the backseat! Be sure to check out the Baby Powder air freshener if clean is your go-to scent.
>>> Click Here To Try Baby Powder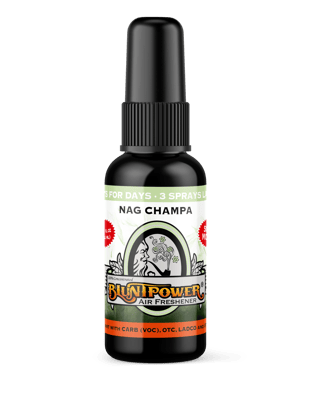 3.) Nag Champa
This next entry truly does not need an introduction as it is factually the most popular incense variation in the world.
That is why we had to provide it with the good old BluntPower razzle dazzle! BluntPower Nag Champa is an air freshener that is popular thanks to its unique aroma profile. Notes of lily, sandalwood, patchouli, rose and even cotton are often associated with Nag Champa.
Since BluntPower refuses to water down its formula with water and other thinners, BluntPower Nag Champa is sure to keep your vehicle smelling like a morning walk through the forests of India.
>>> Click Here To Try Nag Champa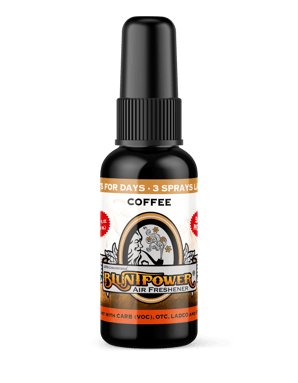 4.) Coffee
This version of BluntPower air freshener is one of the most overwhelming formulas we've created to date.
BluntPower Coffee air freshener will provide your vehicle with that Monday morning commute to work scent all day long. The intense notes of coffee beans with a tab bit of vanilla is sure to cut through any unfavorable odors stuck within your vehicle.
In fact, your rideshare passengers made add a stop to the local coffee shop on their way to their destination thanks to BluntPower's Coffee air freshener!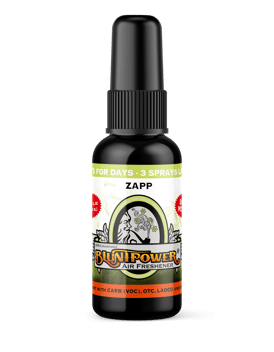 5.) Zapp
The next entry on our list of recommended BluntPower air fresheners by rideshare operators is the legendary Zapp. In fact, Zapp is a personal favorite amongst many rideshare operators.
This blend of citrus, herbs, white florals and notes of clean cotton is energizing and instantly invigorating with every spray. There isn't any other scent like it when attempting to refresh your vehicle for disapproving patron.
BluntPower's Zapp air freshener is sure to zapp whatever complaints your passengers once had.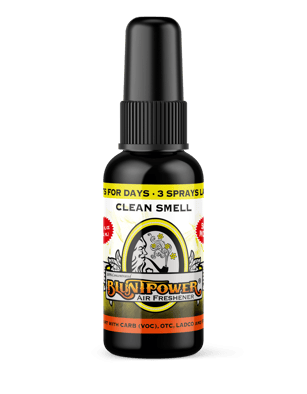 6.) Clean Smell
Have you ever entered someone's home and it instantly smells of a refreshing and clean scent similar to warm laundry? Well, we at BluntPower synthesized something even better.
The BluntPower Clean Smell air freshener is a favorite amongst rideshare operators. This air freshener brings on notes of lavender and citrus of the lemon variety. The result is a fragrance similar to that a mild spring morning.
If you are concerned with eliminating odors during your ridesharing shifts, consider picking up a bottle of BluntPower Clean Smell air freshener today.
>>> Click Here To Try Clean Smell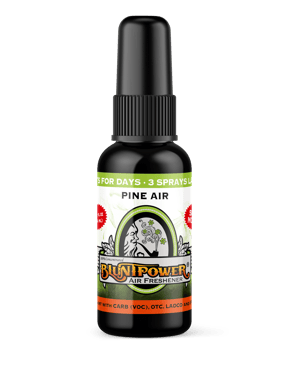 7.) Pine Air
One of the most favorable scents amongst the masses is that of the great outdoors. Luckily, BluntPower has you covered. The BluntPower Pine Air scent brings overwhelming notes of pine, lemon, geranium and a bit of cedar.
Pine Air will provide your vehicle with a scent similar to a morning drive along the country road. If the mountains are your thing, then BluntPower Pine Air is also your thing.
>>> Click Here To Try Pine Air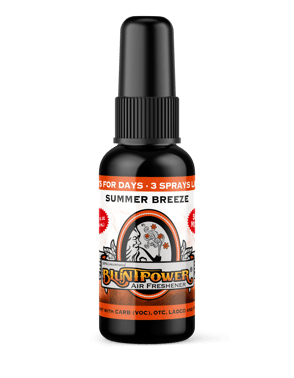 8.) Summer Breeze
The next entry on our list may be one of our most nostalgic formulas to date. BluntPower Summer Breeze air freshener brings the middle of June directly to your vehicle. Summer Breeze hosts a medley of scents, including apples, violet flowers, and a tad bit of lemon.
This air freshener will not only provide your vehicle with an invigorating scent, but will also prompt passengers to ask you to drop the top so they can get some more of that sweet summer breeze.
>>> Click Here To Try Summer Breeze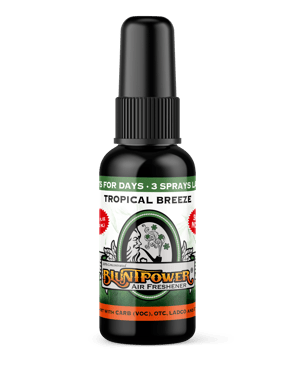 9.) Tropical Breeze Green
So far, we have brought the scents of the mountains, seasons, childhood and even a cup of joe. This next scent is guaranteed to bring the Amazon Rainforest directly to your vehicle.
BluntPower Tropical Breeze Green air freshener is packed with notes of exotic fruits such as papaya, mango, citrus with a tad bit of florals.
If you are into having your car smelling like a toucan resting upon a canopy in the Amazon, then Tropical Breeze Green is the BluntPower air freshener for you.
>>> Click Here To Try Tropical Breeze Green
10.) Pineapple
The final entry on our list is known simple as 'pineapple.' For those who have been to the coasts of the Caribbean, this scent is sure to bring back memories.
BluntPower's Pineapple air freshener features notes of pineapples (obviously), nectarines, mandarin oranges all tied together with an invigorating splash of grapefruit.
Moreover, BluntPower Pineapple air freshener is guaranteed to eliminate odors with your passengers craving whatever that favorable scent in your car is.
>>> Click Here To Try Pineapple
--
For more BluntPower scents, be sure to check out our extensive lineup of over 200+ scents here.