If anyone deserves to be showered with gifts and love on special occasions, it's moms. And while we see numerous sacrifices they make for us every day, many more acts go unnoticed, which is why Mother's Day is the perfect day to show them how much you appreciate them.
With the 2023 Mother's Day quickly approaching, it's the perfect time to start looking for the perfect gift to celebrate your mom or mother figure. Suppose your mom is a cannabis enthusiast, or she's just canna-curious; this guide will help you find the perfect gift for your stoner mom.
11 Best Mother's Day Gifts for the Stoner Mom in Your Life

1. My Bud Vase
Every stoner mom knows how difficult it can be to conceal their consumption. So, what if you could use your bong as a beautiful décor piece for hiding your stash? My Bud Vase offers function and functionality with its elegant designs that serve a dual purpose for chic and smooth rips.
During the smoke breaks, your mom might even use her new bud vase to show off her Mother's Day flowers.
My Bud Vase has several collections that can fit your mom's lifestyle. For example, maximalist cannabis moms may love the simple yet stylistic Rosette and Aurora collections. On the other hand, if your mom's style screams chic yet sleek, you could shop the jewel signature collection.
This BABY POWDER LONG LASTING SPRAY AIR FRESHENER destroys embarrassing odors and instantly makes any room, car, or shared space ready for company.
2. Wyld Gummies
Unwinding after days of cleaning, cooking, doing laundry, and helping with homework, among other tasks, isn't always easy. You can help your hard-working mama unwind this Mother's Day by gifting her Wyld gummies. Upon taking these THC edibles, your mom will have an easier time catching the much-needed sleep to replenish their energy.
Ensure your mom knows their goes before purchasing these gummies for them. The 10-pack package offers a 10mg dosage, which is often enough for those new to edibles. Help her pace herself until she discovers her ideal dosage down pat.
3. CBD Face Oil
While your mom may be reluctant to add cannabis into their skincare routine at first, with this trend catching up and the potential benefits of CBD face oil, they will embrace it. One face oil product you could opt for is the Oz Green face oil. This product from Herbivore Botanicals contains 100 milligrams of full-spectrum CBD as well as hemp seed oil, which is great for hydration and can also combat environmental elements that cause aging.
Now you can experience the ultimate get away with a single spray of our pineapple air freshener.
4. Stoner Socks
Another great product to gift your mom this Mother's Day are stoner socks. So how do these socks work? They are infused with CBD oil and work with the body's natural heat taking effect on pained feet and making you slightly mellower. It lasts around 30 washes.
5. Cannabis Infuser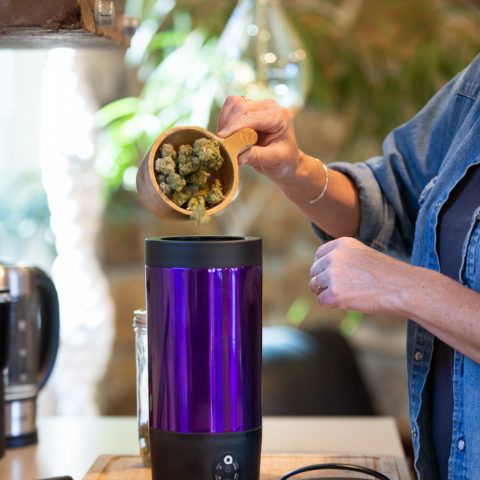 Suppose your mom's weed stash is always full, and she already has the fanciest pieces in town; you can help make getting high at home easier by gifting her a cannabis infuser such as LEVO. LEVO cannabis infuser elevates herbal infusion for oils, butter, honey, and more by automating the drying and infusion process.
If you're a fan of the "Black Ice" scent, you'll love our Black Rain.
A cannabis infuser is an excellent gift if your mom loves "special" brownies or gummies but does not have time to make daily dispensary trips. What's more, infusing at home can help your mom save on her bud budget.
6. BFF Hemp's Dream Tincture
Sleeping can be difficult, especially after having a stressful day. Fortunately, a hemp dream tincture can help with this. A bedtime story fitted in a bottle, BFF's hemp dream tincture combines CBD with concentrated amounts of CBN, which enables it to ease tension and provide a calming effect. So whether your mom is looking to get some sleep or is just looking to chill out, BFF Hemp's Dream tincture will calm both her mind and body.
7. High Point Jewelry
Another way to let your stoner mom know you appreciate her this Mother's Day is by gifting her jewelry from High Point Jewelry so that she can flaunt her love for the plant. High Point Jewelry is the world's premier artisan cannabis design company that offers a stunning collection featuring high-end earrings, pendants, and necklaces. Jewelry is a long-lasting gift, so your mother will cherish the cannabis-inspired jewelry you gift her for a long time.
The classic yet mysterious Egyptian Musk scent is one of our top sellers fragrances of all time.
8. Feminist Weed Farmer Book
If your mom is not only a stoner but also fancies growing weed, this could be the perfect gift. In this book, the seasoned Humboldt farmer Madrone Stewart shares her insights from years of growing cannabis and thriving in the male-dominated industry. She guides you through everything you should know about weed farming, including how to grow backyard plants and how to select seeds to harvest and process. If your mom fancies growing her own pot or making kief or hash at home, this book is a wise purchase. To sweeten the deal, you get your mom's garden started by throwing in a packet of quality cannabis seeds.
9. CBD Lip Balms
Suppose your mom is a natural cosmetic junkie, then a CBD lip balm could be the perfect gift for her. CBD lip balms can not only help soothe and heal chapped lips but also give your mom the calming effect they need to get through their busy day.
10. CBD Bath Bombs
CBD bath bombs are another excellent Mother's Day gift for your stoner mom. After a long, stressful day, nothing can be more relaxing than a warm bath with a nice CBD bath bomb like the Kush Queen CBD bath bomb. This CBD bath bomb is made with CBD isolate, 100% organic essential blends, and lab-tested organic CBD oil. It is perfect for giving your mum a relaxing pause to her day.
Air fresheners and odor eliminators are also excellent gifts for your stoner mom, especially if she doesn't leave alone. A good air freshener or odor elimination should not just mask the smell of CBD, cannabis, or vapes but should eliminate them entirely.
Get Your Air Fresheners, Odor Eliminators, and Incense from Blunt Power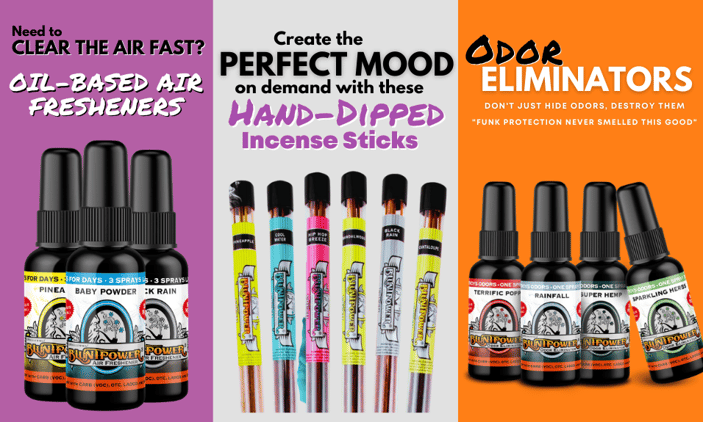 BluntPower is a very potent air freshener with hundreds of different flavors. Our products resonate with but aren't limited to Hip Hop culture as we have a wide range of customers, from teenagers to adults to grandmas.
Browse our product list of air fresheners, odor eliminators, and incense to find the best flavor to gift your mom on Mother's Day.