As the leaves begin to change and a crispness fills the air, it's time to bid farewell to summer and welcome the enchanting season of fall. Fall is a time of cozy sweaters, pumpkin-spiced everything, and the warm embrace of autumn scents that fill our homes. This year, we're thrilled to introduce our "Fall Fragrance Debut," giving you exclusive first access to a captivating collection of new autumn scents. Get ready to immerse yourself in the delightful fragrances of red apple, vanilla, autumn breeze, peppermint, and cranberry as we unveil a symphony of scents that will make this fall season truly memorable.
Red Apple: The Essence of Orchard Abundance
Our red apple fragrance captures the essence of an orchard in full harvest. With its crisp and juicy aroma, it's as if you're strolling through rows of apple trees, plucking the ripest fruit right from the branch. The red apple scent is a sweet reminder of the season's bounty, creating a warm and inviting atmosphere in your home. Whether you're hosting a fall gathering or simply enjoying a quiet evening by the fire, this fragrance will infuse your space with the comforting aroma of freshly picked apples.
Vanilla: A Cozy Embrace
There's something inherently comforting about the scent of vanilla. It wraps you in a warm and cozy embrace, like your favorite blanket on a chilly autumn evening. Our vanilla fragrance is a harmonious blend of sweetness and warmth, making it the perfect companion for those moments when you want to relax and unwind. Whether you're sipping on hot cocoa or reading a book by candlelight, the vanilla scent will envelop you in a soothing cocoon of fragrance.
Autumn Breeze: Nature's Symphony
Autumn breeze is more than just a scent; it's a symphony of nature's finest notes. Imagine the rustling of leaves, the earthy aroma of fallen foliage, and the gentle whisper of the wind as it carries the essence of the season. Our autumn breeze fragrance captures all these elements, bringing the outdoors inside. It's like taking a leisurely walk through a forest adorned in its fall attire. This fragrance is an invitation to savor the beauty of autumn from the comfort of your home.
Peppermint: A Refreshing Twist
While peppermint is often associated with the holiday season, its invigorating and minty scent can be a delightful addition to your fall repertoire. Our peppermint fragrance offers a refreshing twist to the traditional autumn scents. It's like a brisk walk through a herb garden in the cool, crisp air of fall. The peppermint scent awakens your senses, making it a perfect choice for those mornings when you need a little extra pep in your step.
Cranberry: A Tangy Treat
Last but not least, we have the cranberry fragrance—a tangy and tantalizing treat for your senses. Cranberries are a quintessential part of fall, often gracing our Thanksgiving tables in the form of sauces and desserts. Our cranberry fragrance captures the zesty and fruity essence of these vibrant berries. It's like a burst of tart and sweet goodness, creating an ambiance that's both lively and inviting. Whether you're entertaining guests or enjoying a quiet evening, the cranberry scent adds a touch of festivity to any occasion.
---
With our "Fall Fragrance Debut," you have the opportunity to embrace the enchanting scents of the season before anyone else. From the crisp allure of red apple to the comforting hug of vanilla, the natural symphony of autumn breeze, the invigoration of peppermint, and the tangy delight of cranberry, these fragrances will transform your home into a haven of fall-inspired bliss.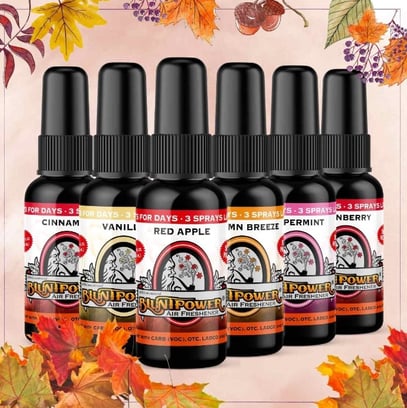 It's time to welcome fall with open arms and a nose filled with the scents of the season. Don't miss out on these exclusive fragrances—immerse yourself in the magic of fall today.