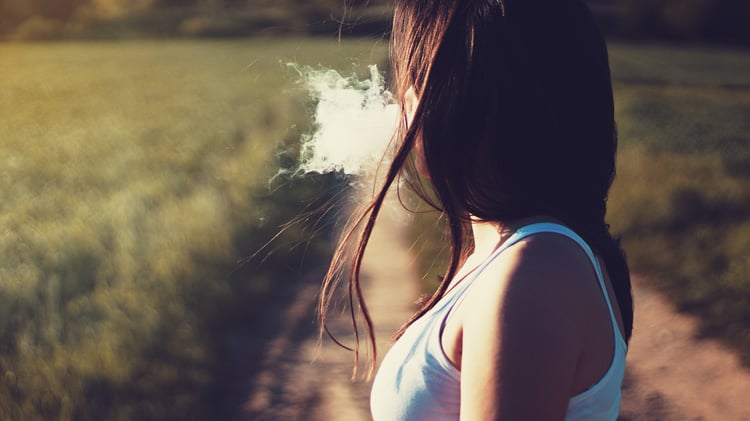 Ah the sweet nug life - burn some herb, kick up those feet, and let the hip-hop tunes roll. Oh, and don't forget to light some incense to take care of the smell. Whether you live in an apartment with neighbors nearby, reside in your own home, or choose to get stoned in your car, you will want something to cover the smell.
And let's just say straight up: When you are in your car is when you are most vulnerable to arrest. So you best have a fast-acting car air freshener.
Hip-hop fans share some interesting characteristics. A love of music? Of course. Smoke weed everyday? Probably. A love of stanky smoke smell? Probably not. (Hint: air freshener).
But here are 10 things every hip-hop fan loves:
Here comes the music - Making beats in the basement. Okay, you may prefer to listen to music rather than create it, but there's no question that every hip-hop fan loves to sit around a nice stereo with friends and smoke a phat blunt (you should try it). Even if you don't have recording equipment to make your own music, you can still enjoy music made by others.
On the double - "A double cheeseburger combo with a coke please." Fast food is always tasty for late-night cravings and meals that you want quickly because you suddenly got very hungry. Nothing beats fast food to cure the munchies. "Do you want fries with that?" And contrary to what Sinbad says, the Double Cheeseburger is always on the menu at McDonalds!
Blunt Olympics - Who can roll the best blunt? Scoring by judges in categories such as appearance and burn quality. Who can make the most creative blunt? The cross-bow joint or other unique constructions get bonus points. How many blunts can you roll in 60 seconds? Winner takes all! Warning: Blunt Olympics are not for the faint of heart. Maybe work your way up to this one.
Debating the best rapper of all time - Tupac, Biggie, Yasiin Bey (Mos Def)? What about wildly successful Eminem? The debate will rage on between hip-hop and rap fans alike. Tupac once said: "Is it a crime, to fight, for what is mine?" Whether he was the best rapper of all time or not, he was a great storyteller to be sure.
Dancing Machine - Whether you like the robot, the dougie, or just a basic two-step, grooving to those hip-hop jams will always entail some dancing. All ages, from baby to baby-boomer, love to bust a move, cut a rug, and boogie the night away. Calling all B-boys, and B-Girls!
Joints vs blunts – Oh yea, it's getting real now! With my homies it's like all blunts. But my cuz in Georgia says he'll take a fine spleef over a phat ole blunt everyday. Why? Some people just don't like the tobacco…
Battle rapping - Get creative and lay out some of your own flows. It might take some practice to get to battle rap level, but don't "lose yourself".
"Look, If you had one shot or one opportunity to seize everything you ever wanted in one moment. Would you capture it or just let it slip?" (Eminem - Lose Yourself)
Practice with friends before you try to show off (just a tiny tip from me to you). So get rhyming and write down your best raps. You'll be spitting 'hot fire' in no time! Don't worry about embarrassing yourself either, and remember that practice makes perfect.
Discussing the difference between rap and hip-hop - So does the difference between rap and hip-hop depend on lyrics, beats, or commercial interests, or maybe all three? Do you prefer one over the other? And are you willing to back up your claim with proof? Is there any chance that the two can exist with respect for one another? All are worthy debates.
Experimenting with marijuana and music - Did you know that there are certain strains of cannabis that enhance listening to music more than others? Let us know when you find the perfect kind. Listen to slow jams, old school, or some good old underground hip-hop. Here is an article entailing 25 best hip-hop weed songs.
Awesome aromas - Create the mood while you smoke with Blunt Power's unique and enchanting scents in spray and incense form, with hundreds of options. Scents like Sandalwood and Vanilla or Pine Air are subtle and relaxing. Or try something fresh and fruity like Mango Melon Red. Scents are spot on so you will be sure to love every purchase.
Sweet nugs - Don't forget the edibles! If you haven't tried them - you are missing out. Magic brownie bars, rice crispy treats, muddy buddies, and gummy bears, oh my! Make sure you consume low amounts at a time and wait 60 minutes or so for them to kick in. Let marijuana edibles take your music experience to the next level.
Sweet Mary Jane and hip-hop go together like peas in a pod. When you sit down to smoke and chill, or chill and smoke, make sure to crank up the music. Hip-hop lovers from all walks of life all love to relax and vibe out with some green and maybe a few stoner activities.
Just be prepared to freshen up your smoke space with Blunt Power's fantastic scents for every occasion; before, during, and after. Hey, don't be discouraged if you don't smoke, there are many ways to enjoy hip-hop. Marijuana and music just seem to go together. Make the most of it and add some sumptuous scents to your party, even if you party solo. There's nothing better than an enthralling aroma to create the perfect mood.