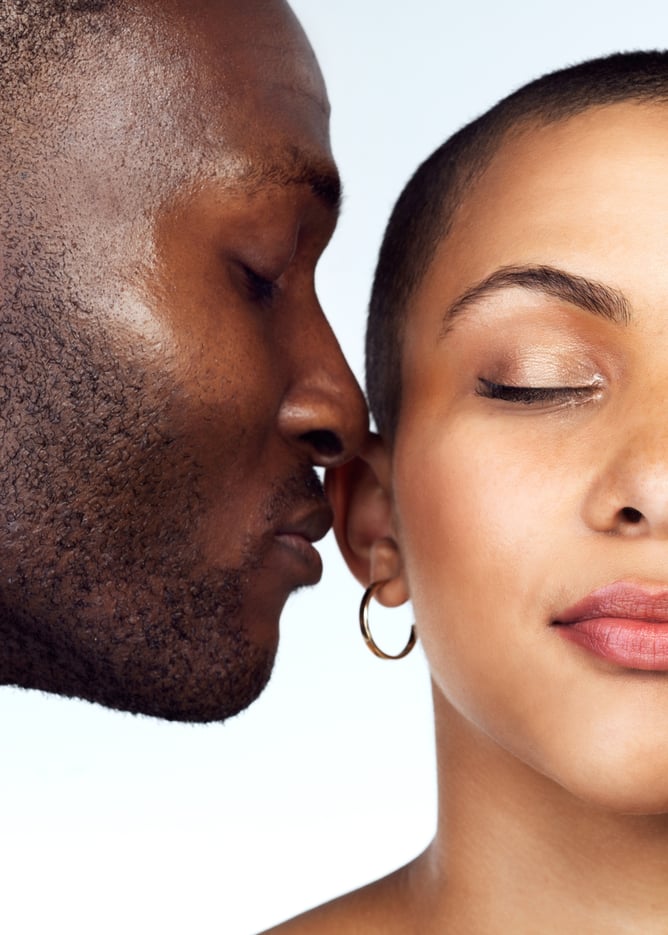 Are you trying to get your partner naked?
We all know that scent is a powerful tool, right? It is linked to our memory and emotion more than our other senses. But did you know it also plays a remarkable role in our love lives?
Throughout history, people have been using senses as an aphrodisiac. Egypt's famous Queen Cleopatra is said to have used perfumes to seduce her lovers. Not much has changed today!
Research has shown that overpriced perfumes have almost no effect on sexual attraction. Skip those expensive perfumes and oils and try some scents that are sure to send your sexual partner into overdrive. Read on for the must have scents that will give your partner a penile pump-up!
Vanilla is a longtime favorite for men. Vanilla screams sensuality, warmth, comfort and indulgence. This sweet, welcoming odor has a euphoric effect that sets the sensual mood. In fact, this soothing scent has been shown to boost arousal in men by 9%! A spray of our popular Vanilla air freshener is a great way to get his little man to stand at full attention!
Men are naturally drawn to the scent of lavender. Lavender is rated one of the most relaxing scents out there. The smell of lavender can also set the ambiance of a sensual massage spa. It is the champion for inducing calmness in people. No more thinking that lavender is just for your grandmother's laundry room. Spray our Lavender air freshener with a unique combination of spring lavender blossom, blushing rose, stargazer lily and rich sandalwood essence, and smell your way to foreplay!
The light floral smell of Gardenia represents femininity and gives off a very romantic aura! This scent has a refreshing-feel and a young vibe. Our Gardenia air freshener has a light scent that is not harsh at all. A perfect scent to be paired with candles, music and dim lights for an amorous evening ahead, reminding him exactly where his happy place is.
Orange is fresh, sweet, and universally appealing. Our Orange air freshener is an invigorating meld of fresh squeezed orange juice, swirled amid playful hints of Madagascar vanilla and hot spring berries. A recent study revealed that the orange scent aroused 20% of men. Orange commands the most attention from men. It is the fragrance you should be bathing in when date night comes around! At Bluntpower, we have many scents we pair with orange such as Orange-Strawberry, Orange-Vanilla, Mango-Orange, and many more for when you want to change it up!
One of everyone's favorite - chocolate! Chocolate is said to be an effective aphrodisiac, increasing sexual desire and pleasure. Spray some Chocolate Thunder air freshener to get your partner in the mood for chocolate, then use chocolate body toppings and apply it to the area you want your partner to lick. You're welcome!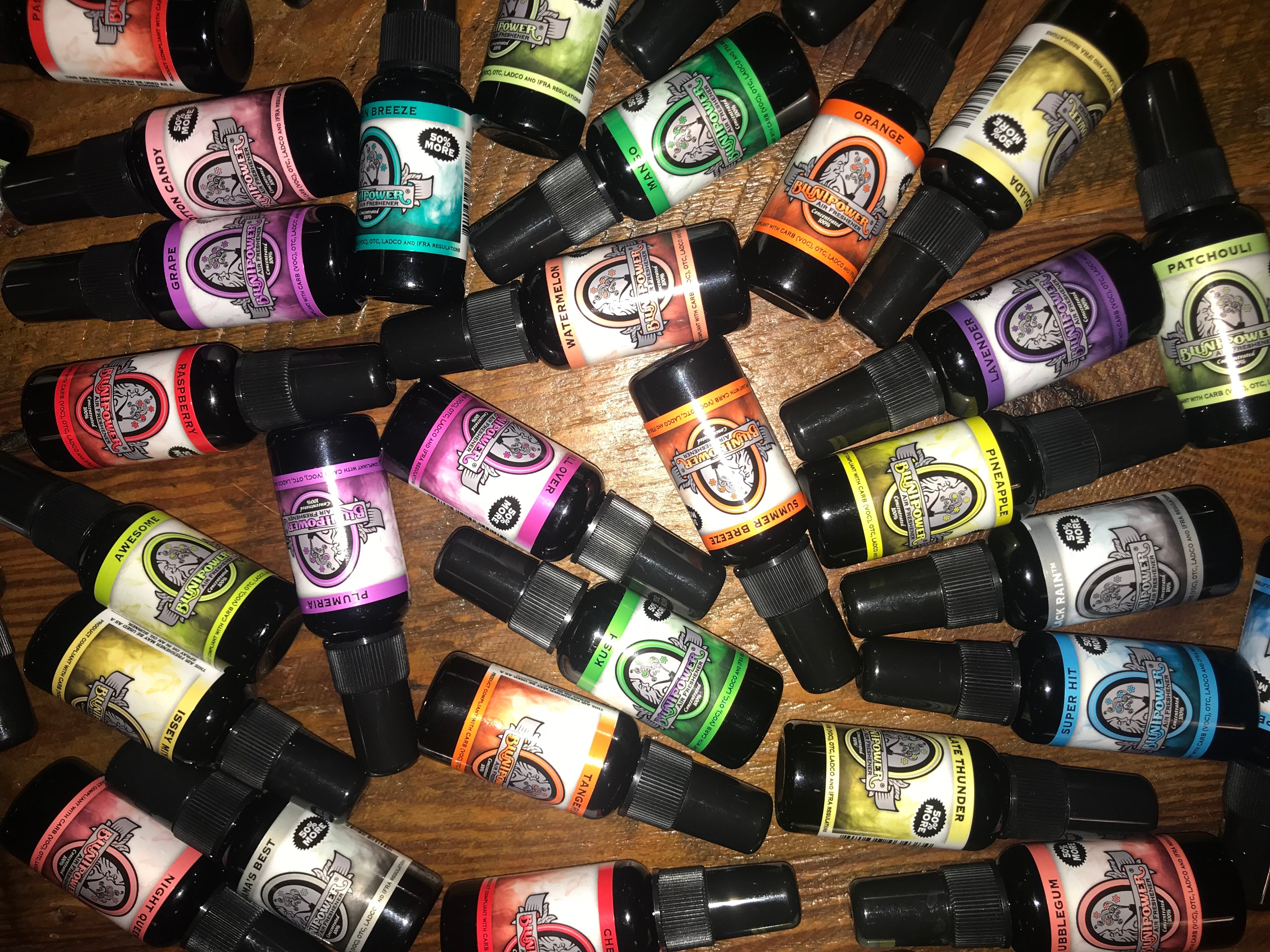 Our Cinnamon air freshener can excite the brain and even improve one's mood. Cinnamon has been shown to increase a person's sexual appetite. Research has found that cinnamon increases sexual function in aging, male rats, suggesting it might be an aid in erectile dysfunction. With the help of cinnamon scent, your toes will be curling in no time at all!
Sandalwood has a warming, sexy and romantic scent. It is reported to stimulate men by heightening his sensual chakra. The sweet exotic scent of our Sandalwood air freshener has a delicate hint of summer roses warmed with vanilla. Sandalwood is known to enhance the sensual emotion in men while having a calming effect.
Musk is warming, sensual, sexually appealing and has an indulgent side that everyone finds attractive. There is definite aphrodisiac power in musk. Our Egyptian Musk air freshener is the union of ancient mystery and sexual stimulation together in one. This fragrance definitely channels desire and will have him asking your favorite question, top or bottom?
The sweet scent of strawberry can be very arousing. Our Strawberry air freshener will remind him of juicy, plump, mouthwatering strawberries. Incorporate real strawberries into your lovemaking sesh and have him begging for more. Strawberries contain minerals known to support a healthy sex drive. Soon you will be hearing "Are you ready for round two?" Try a spinoff of this scent with our sexy B-Naked air freshener. Intoxicate him with this creamy blend of vanilla dipped strawberries, and succulent cherries!
Back in 1995, a study of 31 Chicago men ages 18 to 64 was conducted. These men were asked to smell 46 odors and combination scents, including perfumes and foods. They were surprised to find that the cinnamon roll scent turned out to be the sexiest odor! That's right, cinnamon roll scent increased the penile blood flow in these men. Our Cinnamon Bun air freshener has an intoxicating aroma of succulent cream cheese frosting melting atop a gooey, warm cinnamon bun! A must have scent for a guaranteed night of pleasure.
There are many other scents that are a must have for couples. Kama Sutra air freshener is a necessity for the bedroom. It sets the mood with the tantalizing meld of enticing citrus, sweet bergamot, and sensual geranium with an inspiring compliment of spicy ylang ylang, golden amber, and sweet Asian woods.
One of our other favored scents among couples is our Hearts of Love air freshener. You'll love how this sultry air freshener infuses your space with its heart-warming blend of spiced citrus, enticing seaside musk, lush tropical greens, sensual sandalwood.
Finally, try On the Beach air freshener. This air freshener is sure to please with the flirty fusion of dripping-wet nectarines, vibrant tropical mango all blended into magnificence amid vodka-infused berry ice.
Why spend hundreds of dollars an ounce for something that will have zero effect on your lover's libido? All of the scents listed here are sure to drive your partner crazy. Stock up on these air fresheners today from Bluntpower.com. These SCENTual fragrances will help turn "prude" into "in the mood" resulting in a happier and healthier sex life!