Picture this:
It's Sunday. You just smoked a blunt and you're high as hell. The weather sucks so you're stuck inside and just ordered an extra large, extra cheesy cheese pizza. You wanna ride out this high, so what better way than to binge watch some stoner movies?
Gather 'round with your pizza, popcorn and broccoli because we've got a list of our top 10 movies that you just gotta watch while high.
This list is in no particular order, 'cause it was hard enough only choosing 10!
---
How High
Starring Method Man from Wu-Tang Clan and Redman, this movie is packed with great humor and memorable quotes. It follows their journey to Harvard after smoking a "magical" batch up marijuana and what happens once their supply runs out.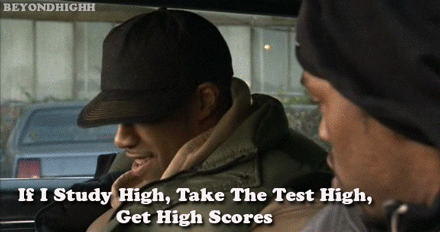 Friday
If you haven't seen Friday already, then "Bye Felicia!"
Ice Cube and Chris Tucker kill it in this classic stoner comedy. It is the first of three Friday movies, so if you have some extra time, definitely follow up with Next Friday and Friday After Next.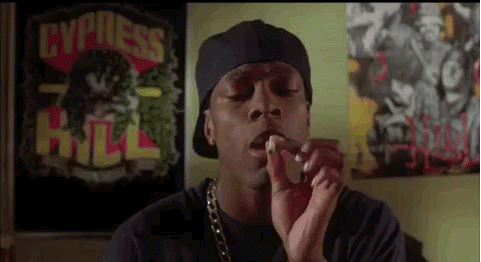 This is the End
Watching an apocalyptic comedy when high is just way too entertaining… especially when it stars Seth Rogen, Jonah Hill, Craig Robinson, James Franco, and even an appearance from Rihanna. The humor is already good, but when you're high you'll find yourself laughing way more than you should. But that's what you want, right?
Half-Baked
This cult stoner comedy stars Dave Chappelle, so you know it's gonna be funny. In it, him and his stoner friends have to raise bail to get their homie Kenny out of jail, and do so in a pretty ballsy way. They have run-ins with the police, a drug lord, and a rapper name Sir Smoke-A-Lot. And did we mention it stars Dave Chappelle?!
Cheech and Chong's Up in Smoke
Up In Smoke is accredited with creating the whole "stoner comedy" genre so it was only fitting that we included it on this list. It was released in the 70s so it's psychedelic, filled with herb, and features some pretty great 70s pothead music. You're definitely gonna want to light up to this classic.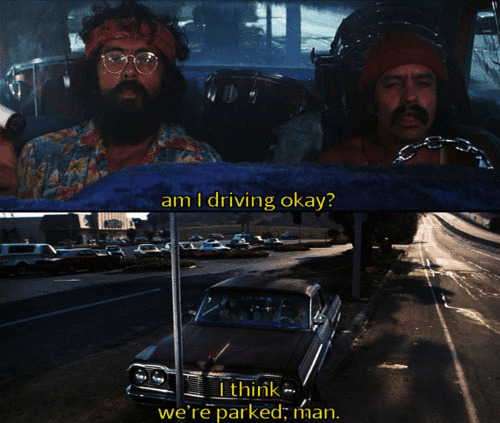 Harold and Kumar Go to White Castle
Personally, we save this movie for when the munchies hit. You can pair your marijuana-fueled cravings with Harold and Kumar's fast food binge of 30 sliders, 5 large fries, and 4 large fountain drinks. Your extra large, extra cheesy pizza will do… or maybe you'll be inspired to make a trip to White Castle yourself.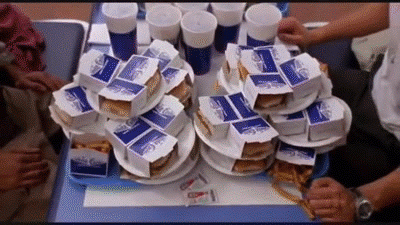 Smiley Face
Most stoner films feature a couple of high dudes doing dumb shit but this one has Anna Faris as an aspiring actress who spends all of her time getting baked. In the movie, she unknowingly consumes an entire plate of cannabis cupcakes and gets herself into a stream of trouble. She plays the part so well and quite honestly we wouldn't mind eating some cannabis cupcakes with her ourselves.
The Big Lebowski
This isn't just a great movie to watch high, but it's great to watch any time. It stars some of the best actors in Hollywood, has a sick soundtrack, great humor, unconventional dialogue, and one of the greatest stoner heroes in movie history. We highly recommend this film whether you're high or not.
Pineapple Express
Here is another movie with James Franco and Seth Rogen, but it is too good not to mention. This movie has become pretty iconic as far as recent stoner movies go. In it, a pothead and his drug dealer go on the run from a drug lord and crooked cop after they witness a murder and leave behind a roach with rare dope in it.
Franco and Rogen have admitted to smoking together all the time, so we just wanna know where we can get an invite to that smoke sesh.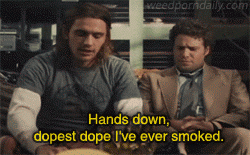 The Planet Earth and Blue Planet Series
Although these aren't movies, they don't disappoint. Kangaroos fighting might seem dope, but watching kangaroos fight while you're stoned is just something you need to experience yourself. It takes mother nature to some next level shit.
---
What do you think of our list? Are there any movies you'd like to add or take away? Give us your feedback in the comment section below! And don't forget to keep some BluntPower around for when the movies are over to get rid of that weed smell.